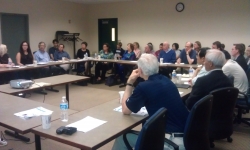 Montgomery County is a great place for technology transfer & commercialization.
Home to the largest concentration of federal laboratories in the nation
Close proximity to the University of Maryland System and Johns Hopkins University researchers
Highly-educated workforce
Home to 25% of Maryland's incubators
Montgomery County Department of Economic Development assists local business, entrepreneurs,  researchers, and investors through its technology transfer initiative.
The Montgomery County Tech Transfer Program (MCT2) includes:
Gateway to Innovation Welcome Center located at the William E. Hanna, Jr. Innovation Center at Shady Grove
A monthly Speakers Series
Access to local tech transfer events (see sidebar)
Numerous partnership and networking opportunities
Certificate Programs
Innovation 2 Commercialization Conference
Online Resource Center
If you are in need of assistance or have any questions about the MCT2 Program, please contact DED by phone at 240-777-2018 or e-mail.
MCT2 in the News
Chesapeake Bay Seed Capital Fund
Maryland Industrial Partnerships (MIPS) Proposal Applications
State Officials Kick Off Second Annual InvestMaryland Challenge
Tech Transfer Speakers Series Presentations
BHI Publishes BioHealth Entrepreneur's Resource and Finance Guide