Montgomery County is directly adjacent to Washington, D.C. and ideally situated to connect businesses with the federal government. The county is proud to be home to 18 federal agencies and installations.
Economic Impact of the Federal Government in Montgomery County
The Federal government paid over $4.5 billion in wages to approximately 47,000 Montgomery County workers in 2013.
The General Services Administration leases over 8.0 million square feet of commercial space in the county.
In FY2013 federal prime contract awards to companies in Montgomery County comprised $11.5 billion.
Federal Agencies
The high concentration of Federal agencies in Montgomery County provides businesses:
A rich research community where ideas are born and exchanged
Unparalleled informational and technological resources
Access to policy, regulatory, and procurement officials
Several agencies, such as the National Institutes of Health, the Food and Drug Administration, the Department of Energy, the National Naval Medical Center, and Naval Surface Warfare Center- Carderock, are located on federally owned campuses.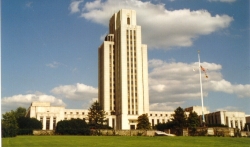 List of Federal Labs & Agencies
View a list of the Federal Labs & Agencies located in Montgomery County